Selecting a tarot deck for your personal or professional practice can be a daunting task. With hundreds of beautiful tarot card designs available around the world, finding the perfect deck for your needs can seem impossible. To help you make the right decision for your needs, we have compiled a list of the 7 best tarot decks available on the market for everyone from beginners to professionals. Whether you need a simple deck for personal use or a more complex deck for a wider audience, you'll find some of the most beautiful tarot decks below.
1. The Modern Witch Tarot (Best Modern Design)
Lisa Sterle's modern take on the classic Rider-Waite deck is a stunning achievement that combines the standard tarot Major and Minor Arcana with contemporary imagery and characters. The Modern Witch Tarot features a unique blend of detailed, colorful artistry with simple, easy-to-interpret symbols from the Rider-Waite tradition. For the tarot readers of today, the Modern Witch Tarot is an attractive option that combines the new and the old into a comprehensive deck that will benefit tarot readers of all experience levels.
Pros
Vivid colors and patterns
Contemporary imagery and symbolism 
Incorporates all Major and Minor Arcana cards
Cons
Modern symbolism can be difficult for inexperienced readers to interpret
Combination of patterns and colors can be overwhelming
2. Ethereal Visions Illuminated Tarot Deck (Best Intermediate Deck)
With sinuous lines and soft pastels, the Art Nouveau style of Matt Hughes' Ethereal Visions Illuminated Tarot Deck maintains the conventions of the Rider-Waite tarot deck, but with a striking modern clarity that lends a sense of timelessness. The pale color and tenuous lines of this unique deck are illuminated by gold stamped accents for added radiance. This deck incorporates graceful depictions and exceptional detail to create a compelling deck that is suited to practitioners at any level. 
Pros
Stunning timeless imagery with classic symbolism
Pastel colors and soft lines with gold accents for a more compelling feel
Cons
Complexity and modern symbolism may be difficult for beginners
Gold accents can be distracting
3. Deviant Moon Tarot (Most Original Deck)
A whimsical departure from the traditional tarot, Patrick Valenza's Deviant Moon Tarot draws vivid imagery straight from your dreams. The deck imagines a plethora of fanciful dreamscapes with alluring and delightful characters that represent both the Major and Minor Arcana in all their glory. With a modern, surrealist atmosphere and distinctive lunar focus, the Deviant Moon Tarot has become a favorite of many tarot practitioners at varied skill levels. Valenza's guide offers unique interpretations, reversed readings, and an exclusive 10-card Lunatic Spread in addition to traditional layouts. 
Pros
Unique, whimsical characters and symbolism
Imaginative focus on lunar moods and imagery
Extensive guidebook with additional 10-card Lunatic Spread
Cons
Non-traditional symbolism may be difficult for inexperienced readers to interpret
4. The Fountain Tarot (Most Artistic Deck)
An exquisite take on the Rider-Waite tarot, The Fountain Tarot features alluring modern imagery envisioned by artist Jonathan Saizin in his contemporary oil paintings. With an emphasis on the metaphysical, this silver-gilded deck takes you on a journey through spiritual portraits and geometric designs that invite readers to contemplate the interconnectedness of everything. The added Fountain card increases this tarot deck from the standard 78 to 79 cards, which is ideal for more advanced practitioners. The comprehensive guidebook is designed to help practitioners comprehend the upright and reversed interpretations of the classic arcana as conveyed by Saiz and his co-creators Jason Gruhl and Andi Todaro.
Pros
Unique, contemporary imagery and metaphysical symbolism
Comprehensive guidebook includes inversions
Extra "Fountain" card
Cons
More abstract artwork can be difficult for less experienced practitioners to interpret
Extra cards can be confusing for practitioners accustomed to the standard 78 card tarot deck
5. Dreams of Gaia Tarot: A Tarot for a New Era (Best Advanced Deck)
If you are an advanced practitioner looking to expand your horizons, consider the Dreams of Gaia Tarot by Ravynne Phelan. This deck is a departure from the traditional Rider-Waite tarot deck, which can make it challenging for less experienced practitioners. Dreams of Gaia features beautiful tarot cards with rich, vivid colors and extraordinary artistry. The symbolism incorporates the standard Rider-Waite symbols and arcana, but expands the deck with more contemporary symbolism and archetypes, for a well-rounded deck that readers can relate to on a more intimate level. 
Pros
Expanded deck with additional symbolism and archetypes
Vivid colors and evocative imagery
Cons
Complex symbolism and adapted characters can make this difficult for less experienced readers
6. Rider-Waite Tarot Deck (Best Beginner Deck)
If you are just starting your tarot journey, the best deck to start with is the Rider-Waite Tarot Deck. One of the oldest tarot designs, it has been in circulation since 1909 when it was created by Pamela Colman-Smith and Arthur Edward Waite. The bright colors and straightforward imagery allow readers at all levels to provide a clear interpretation of each of the 78 cards with ease. The lengthy history of the deck has yielded an extensive range of interpretations for the deck, which makes it especially useful for beginners who are getting comfortable with tarot readings in different settings and layouts. Regardless of your skill level, the Rider-Waite deck is a tried and true option for natural, uncomplicated readings.
Pros
Easy-to-interpret images and symbolism
Many interpretations available
The basis for most tarot decks
Cons
Symbolism may be too simple for advanced practitioners
7. Golden Tarot of Marseille (Best International Deck)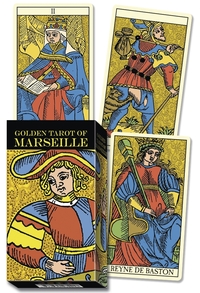 Golden Tarot of Marseille
llewellyn.com
Check price
With art that has been updated and restored from originals made in 1751, enhanced colors, and gold impressions on every card, this is the most brilliant edition of the Marseille Tarot available. It...
Another well-established deck, the Golden Tarot of Marseille has a complex and mysterious history, with some sources indicating that it was established in 1650 France by Jean Noblet, a Parisian card maker. Other historians point to influences from 15th century Italy as the deck's true beginnings. Regardless of its provenance, the Golden Tarot of Marseille remains one of Europe's most popular tarot decks after at least two centuries of use. The distinctive wood block images of Claude Burdel's 1751 redesign have stood the test of time, and are beautifully highlighted in this deck with gold impressions and color enhancements. Perfect for both beginning and advanced practitioners, the Golden Tarot of Marseille is a gorgeous tarot deck steeped in Europe's rich esoteric history.
Pros
One of the most historic designs
Simple, easy-to-interpret imagery
Vivid color enhancements and gold highlights
Booklet in multiple languages
Cons
Simple symbolism may be insufficient for advanced practitioners
Gold highlights may be distracting for some readers
Whether you are just starting your tarot journey or you are a professional practitioner, choosing the right tarot deck requires a great deal of introspection about your artistic preferences, preferred symbolism, and level of experience. If you are a beginner who is still learning the Major and Minor Arcana and basic spreads, you may be better served by selecting a traditional deck. If you are more experienced or you are a professional tarot practitioner, you may prefer a deck that incorporates more complex and varied symbolism. Finding the right tarot deck will help you work toward your goals, from self-actualization and personal growth to professional guidance of others on the path to their own enlightenment.
The responses below are not provided, commissioned, reviewed, approved, or otherwise endorsed by any financial entity or advertiser. It is not the advertiser's responsibility to ensure all posts and/or questions are answered.